Hassmann expanding
Hassmann expanding 26 January 2023 At the beginning of this year Brazilian manufacturer Hassmann
Hassmann expanding
26 January 2023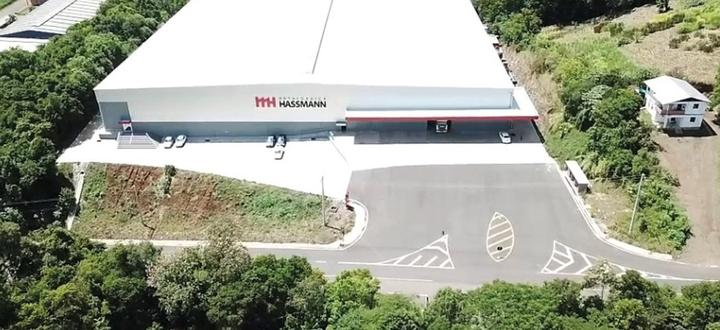 At the beginning of this year Brazilian manufacturer Hassmann will start the construction of a new 10,000m2 facility to expand its production plant, which will enable it to continue to produce high performance industrial fasteners for customers around the world.
With a current site of over 40,000m2, and more than 400 employees, Hassmann S.A currently has a production capacity of 2,000 tonnes per month. Through continuous investments to increase production, the company is looking to grow this capacity even further. "In the last twelve months we have invested approximately US$10 million," explains Diego Jezler, business developer at Hassmann. "This includes a new 800kg/h heat treatment line, two new combined 5-stage presses, two new CNC lathes and an automatic line for applying phosphate – in a galvanic plant we previously purchased."
This production capability has led to Hassmann being able to manufacture parts according to international standards, as well as special parts according to customer drawings. Its product family is very diverse and includes hexagonal, flanged, french, weld, six-lobe, internal hexagon screws, as well as studs, rivets, pins and U-bolts, among others. In the nut segment it can offer hexagonal and flanged – with mechanical lock and nylon rings – as well as weld nuts.
However, what sets Hassmann apart in the market is its ability to manufacture special parts based on customer requirements, especially when it comes to the more diverse applications – such as engine screws, suspension screws, axles, brake system screws, seat belts, etc – all of which are extremely critical applications where there can be no failures or errors. "We are able to produce these high performance fasteners thanks to the quality assurance we are able to provide customers," points out Diego. "Through our internal controls we can carry out numerous tests during every product process, including dimensional controls and visual inspections. Everything is standardised and through our modern, state of the art equipment we are able to maintain process stability, which has seen us achieve ISO 9001 and IATF 16949 certification."
Excellence through experience
Hassmann's vast array of capabilities and knowledge is thanks to its long history. After the second World War, in 1950, Austrian Engineer Karl Hassmann moved to São Paulo, Brazil, in search of better living conditions – having obtained a work contract from Vass Ernest, his brother-in-law's company, who was already a resident in Brazil.
On a bus Journey in 1952 Karl met Elka Lagemann, a Brazilian teacher who struck up a conversation with Karl as she was also fluent in Germany. After several more meetings the two got married in São Paulo. In August 1955, Karl and Elka returned to Rio Grande do Sul, to live in Elka's hometown, Imigrante, and in October of that year they founded Hassmann e Lagemann LTDA, along with three other shareholders.
At the beginning of its activity, Hassmann was nothing more than a simple workshop, where small repairs, equipment maintenance, as well as the manufacture of spare parts for local industries, among other activities, were carried out. In the following years, the company began to manufacture metallic mechanisms for windows and doors. Only in 1960 did the production of fasteners begin. The reason was the search for a serial product, which obeyed international standards, combined with the needs of Brazil – until then, a country with little industrialisation. In just five years, Hassmann was able to attract several large customers. From this point the company has evolved from generation to generation, with the business remaining 100% family owned – with the second generation currently in management and the third actively participating
in decisions.
A range of logistical services
Today, Hassmann offers much more than just an in-depth family of fasteners, the company can also supply a range of logistical services and solutions through two warehouses in Imigrante, Rio Grande do Sul, Brazil, and another in Tampa, Florida, USA – including the ability to manage stock levels for customers, with weekly or daily deliveries. Hassmann can also store all parts for customers, helping eliminate certain management costs; ensuring delivery on demand; and eliminating any risk of missing parts.
To add to this, Hassmann also has a technical division, including an in-house laboratory, which focuses on the needs of the fastener industry – with the ability to use forming simulation software to help customers develop new products. The company's export team can also handle all the procedures for customers, delivering parts to anywhere in the world.
"We are very proud to sell fasteners and the in-depth line of screws, nuts, pins, rivets and special parts we can provide – all manufactured 100% in-house," states Diego. "We are also a very flexible company when it comes to batch sizes and we value the quality of our products. That's why we always invest in state of the art equipment, whether for production or control, which over the years has brought us a very good reputation for quality and reliability. In addition, we have verticalised our structure, which means we are able to produce all of our forming dies in our own tool shop. We also have heat treatment and surface treatment processes in-house and therefore can be more competitive in terms of prices. Finally, we have always maintained a high stock of raw materials (an average of 8,000 tonnes), which guarantees our customers safe delivery, eliminating any risk of line stoppages."
The secret to success
Hassmann believes that the planned new facility, as well as further investments in its industrial park, in addition to technologies and products, are important for the future of the company. "Those who are not aware of market trends are left behind and lose their competitiveness. That's why every year we try to invest a good part of our profit, so that we can offer our customers the best and most modern solutions in fasteners and in order to provide a differentiated service every day," explains Diego. "We already export to every continent and are currently in a phase of internationalisation as a business. For instance, we already have a representative within the UK. This internationalisation is also underlined in our long-term planning, in which we are even considering taking part of our operation abroad to be ever closer to our customers. This idea is still in the early planning stages, but it shows how we are looking forward and how we can offer our high performance fasteners to the most diverse markets – meeting every need and expectation."
Hassmann's internationalisation is also underlined by its sales to Europe already increasing 10% over the last 12 months – a direct result of the European market looking for new sources after the introduction of anti-dumping duties on certain fasteners from China. "We managed to be very competitive in special parts, even though sea freight remains expensive after the Covid-19 pandemic. Another interesting point is that we are suppliers of many multinational companies here in Brazil, and we have several part numbers developed, approved and in stock. For those customers who have plants in Europe, this could be an excellent opportunity for immediate supply from Brazil. We have been exporting our products to different countries for over 25 years and we will continue to develop globally as a business – with a focus on high performance fasteners and first-class service."
hassmann.com.br